Happy First Day of Autumn!
I'm such a summer girl but I always welcome this change of season. Fall is just so pretty. I love getting out decorations, wearing sweaters and boots, lighting pumpkin and harvest candles, baking cookies, and opening the windows. I could probably go on and on, but you get the point :)
Hello everyone from Welcome Wednesday and Mid Week Mingle!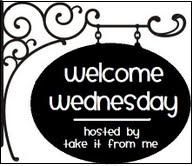 Thanks for stopping by! Leave a comment and I will follow you back!